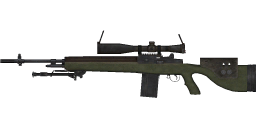 The Designated Marksman Rifle was manufactured to fill the role of a rifle effective between 100-800 metres. It uses DMR Mags.
Category: Designated Marksman Rifle
Rarity: Rare
Spawn Location(s): General Millitary (0.16%), Barracks (0.33%), Heli Crash Sites (2.68%), Military Crash (1.38%)
Damage: 8000 Blood
Ammo:

DMR Mag (20 Rounds/7.62x51mm NATO)

Zeroing: 800m
Rate of Fire: Moderate - High
Recoil: Moderate
Noise: Very High
Firing Mode: Semi-Automatic
Attachments: Mil-Dot Sniper scope 
Alternate Versions: -
Differences to the DayZ version: new sounds
Can be used with Night Vision.
Хуйня ваша DMR